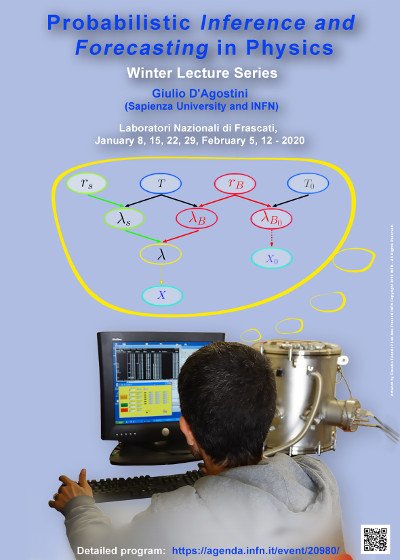 [ Printable poster (pdf, 5.3M) ]


For abstract, location(s) and registration see https://agenda.infn.it/event/20980/


---
Slides:
References, links, etc.



---



Slides:

wls_02.pdf (with recommended home work(*))
[(*) Suggested addendum on the AIDS problem: make a sensitivity study changing the prior probability of infected by ±10%, ±20% and ±50%. ]



References, links, etc.

C'è statistica e statistica, Scaffali di SxT, 30 marzo 2005 (pdf; copia locale).
When ISTAT tries to explain Bayesian reasoning:
Teaching statistics in the physics curriculum. Unifying and clarifying role of subjective probability,
AJP 67, issue 12 (1999) 1260-1268; arXiv:physics/9908014 [Limited to Sections I-IV, for the moment]
More lessons from the six box toy experiment, arXiv:1701.01143.
Constraints on the Higgs Boson Mass from Direct Searches and Precision Measurements, by GdA and G. Degrassi, arXiv:hep-ph/9902226
updated: Constraining the Higgs boson mass through the combination of direct search and precision measurement results, arXiv:hep-ph/0001269.
Bayesian reasoning versus conventional statistics in High Energy Physics, arXiv:physics/9811046
Hugin (Graphical User Interface; Samples)

Ready-to-use models based on the six-boxes toy experiment:
Try to edit the models (within HUGIN), changing the probability tables, adding nodes, etc..
Try to write from scratch the (minimalist) model to solve the AIDS problem, using the number suggested in the slides for easy comparisons.
just two nodes

Infected, with two possible states, Yes and No;
Analysis result, with two possible states, Positive/ and Negative.

Modify the previous model, using equiprobable priors for Infected/Non-Infected:

compare the result with the those obtained with (roughly) realistic priors;
compare the result with the wrong one suggested in the first lecture.
Think then to the possible practical utility of using equiprobable priors.

An interesting classical example is the so called `Asia':

(Indeed, a valid, for some aspects even better, alternative to Hugin is provided by Netica, also thank to the many available tutorials examples whose interest goes beyond the specific package.)




---



Slides:

wls_03.pdf (with recommended home work)
Extra (very important!) problems in order to understand meaning and role of probabilistic dependence/independence.
(We shall return on the topic in the context of correlation coefficients)
More on the distribution of the product of the outcomes of two dice:

Alternative way to produce the histogram:
outcomes = as.vector(outer(1:6,1:6))
hist(outcomes, nc=40, freq=FALSE, col='cyan', xlab='x', ylab='f(x)')
Then, here is out to make a random generator following the distribution:
sample(outcomes, 100, rep=TRUE)

(For help on the R functions you che use, e.g., ?sample, or search on the web.)



References, links, etc.
Now we are finally ready to analyze the graphical model of the lectures poster.
Additional home work based on the diagram:

prove, just using physics arguments, that λ = λS + λB;
then, using the reasoning used in the previous item, draw the diagram in a different, more physical, way.




---



Slides: References, links, etc.



---



Slides: References, links, etc.



---



Slides: References, links, etc.
---