Location

My office is located in the Physics Department (Marconi building, also named "Old physics department") inside the University Campus of the University of Rome La Sapienza, P.le A. Moro 5 00185, on walking distance from the central station (Termini station).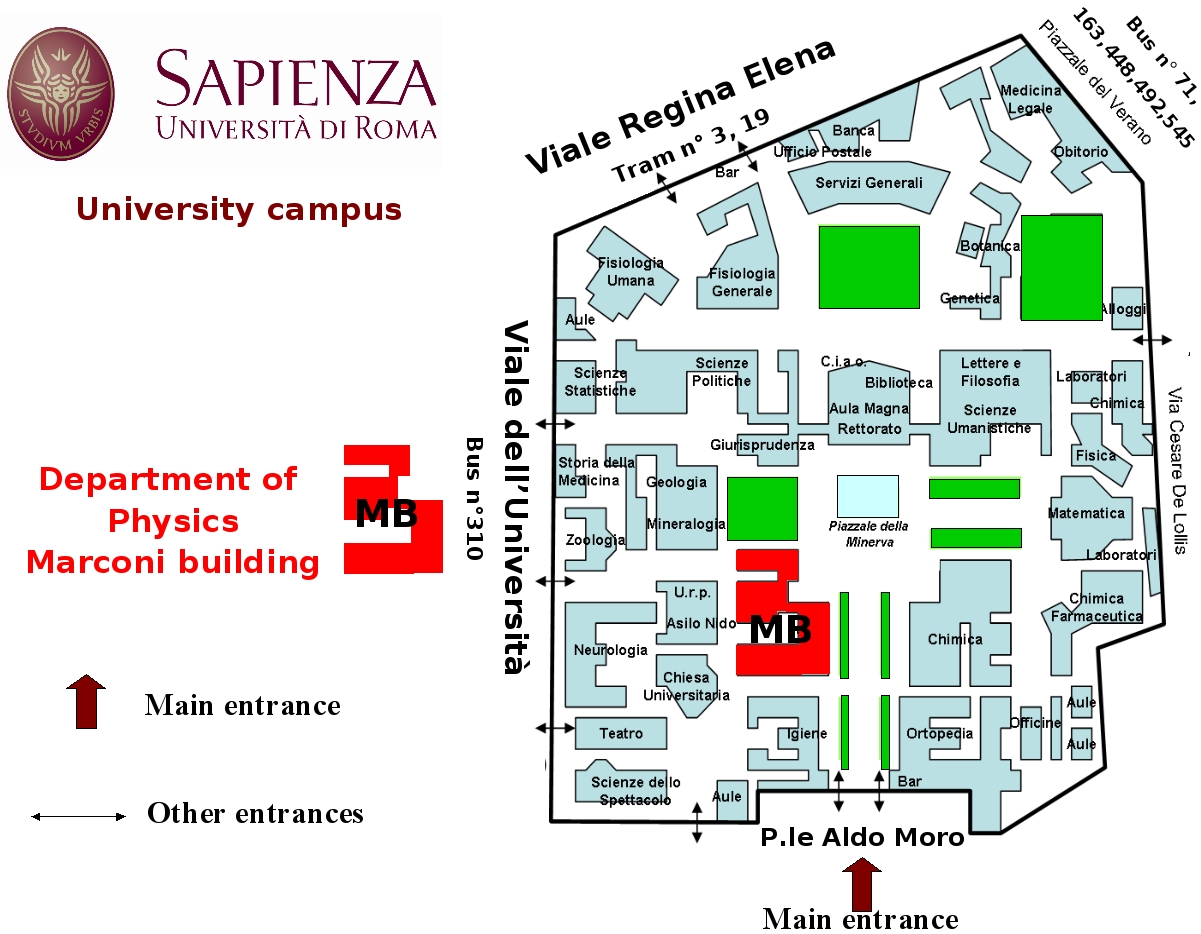 Once reached the Marconi building you need to go to the first floor, take the corridor on the right, at the end of the corridor turn on the right again. My office is number 120, tel. +39-06-49914408
Eating out

Our guest are usually hosted in one of the hotels in the area of San Lorenzo, nearby the university. Here can be also found several restaurants and pizzeria. In the effort to help the visitors to answer one of the fundamental questions of our life ("Where are we going to eat tonight?"), I provide below a list of restaurants in the area. This list is inspired by the "Unofficial Heraklion Restaurant Guide" and by one of his authors, Prof. Nikos Papanicolau. The list turned out to be of the greatest utility during my long visit in Crete in Summer 2009, so I decided to provide our guest with a similar service (even thought this is not at the level of the original one!).

- Osteria da Marcello (crossing between via dei Marsi and via dei Campani: typical roman hosteria, so it closes on sunday; no English menu available)
- Osteria dei Colli Emiliani (via Tiburtina 70: good roman cuisine, reasonable price)
- Franco ar vicoletto (via dei Falisci 1) (this is specialized for fish, with a special menu all included)
- Said (via Tiburtina 135) (a bit more sophisticated, here you must reserve in advance!)
- Formula 1 (via degli Equi 13) (it is a very popular and cheap pizzeria, a rustic place but one of the best pizza you can have!)


Getting around in the city center

(Italian version)

Probably you reached this webpage because you are coming to Rome for a collaboration or a seminar. But also because you could not miss the opportunity to visit one of the most beautiful places in the world... Usually people believe that the Colosseum, S. Pietro or Fontana di Trevi are the most important thinghs to see in Rome. However, it is not in these places that you will taste the magic atmosphere of this city. Below you can find my personal advices for walking tours in the city center. Please consider that what follows is based on a fully-biased personal perspective (but nobody complained until now!)
Rome in a nutshell
The starting point is the church S.Maria del Popolo, in Piazza del Popolo, where one can find several paintings by Caravaggio and Raffaello.Then walking along Via del Babbuino one reaches Piazza di Spagna, with the famous stairs of Trinita' dei Monti, and from here one goes back to Via del Corso along Via dei Condotti. Here you can find the most expensive and luxurious shops in Rome: if you are interested in "real" shopping it is better to refer to the neighboring streets (Via Frattina or Via della Vite or Via della Croce). Walking along Via del Corso towards Piazza Venezia one finds Piazza Colonna: if you want to see Fontana di Trevi you must turn left approximately here, otherwise you can turn on the right and continue your trip (actually, near Fontana di Trevi you can find one of the best -and most expensive- ice-creams in Rome, bar San Crispino, in Via della Panetteria 42). You can have a look at the building of the Parlamento (the Lower Chamber), then continue towards the church of S. Ignazio (the church of the Jesuits, with the fake dome painted by Andrea del Pozzo) and the Pantheon. If you want to take a break I suggest a coffee in the famous Sant'Eustachio bar, in Piazza di Sant'Eustachio 82. From here reach Piazza Navona, with the wonderful fountain of Bernini (Fontana dei Fiumi), right in the center of the square, and just in front of the church of S. Agnese by Borromini, nice example of baroque art in Rome. Nearby Piazza Navona there are other two remarkable churches, S. Agostino (with the wonderful Madonna painting by Caravaggio) and S. Maria della Pace (with the wonderful cloister by Bramante). For lunch there is a nice restaurant in Piazza del Fico 29, "Da Francesco", with good food and reasonable prices. If you are not too tired I suggest to go back to Corso Vittorio and to reach Campo de' Fiori (having a look to Palazzo Farnese in the neighboring square), where in the morning there is the famous market. It is also worth walking a bit along Via Giulia, that starts from Piazza Farnese, and it is a fascinating street out of the main touristic places.
From Roman to Baroque Art
The starting point is the main square in front of Termini station (Piazza dei Cinquecento). Looking to the station on the right there is Palazzo Massimo, one of the branches of the National Museum of Rome (Museo Nazionale Romano, there is a single ticket to access all of them valid for 3 days). Palazzo Massimo is particularly remarkable because it hosts a great collection of roman sculptures and fascinating examples of roman mosaics and frescoes from the Villa of Livia (wife of August). Walking down via Cavour one reaches the basilica of S. Maria Maggiore, and nearby (in Via di Santa Prassede) the little basilica of S. Prassede, where one can find a wonderful program of byzantine mosaics, both in the apse and in the chapel of S. Zenone. Moving instead from Termini station towards the Quirinale palace it is worth stopping in the church of S. Maria della Vittoria, in Largo S. Susanna. Here indeed you will see the Estasi di Santa Teresa, a great sculpture from Bernini, one of the major artists active in Rome in the baroque period, along with Borromini. The way two different conceptions of life are reflected in the architecture of these two artists can be appreciated comparing two churches located exactly in via del Quirinale: S. Carlo alle Quattro Fontane by Borromini and S. Andrea al Quirinale by Bernini. Notice for example that both have elliptical plant, but while S. Andrea has the major axis horizontal, to enhance the space (the celebratory character of Baroque art), in S. Carlo the major axis is vertical, compressing the space (as it is typical in all the complex architecture choices of Borromini, see also the church S. Ivo alla Sapienza inside Palazzo della Sapienza in Corso Rinascimento, nearby Piazza Navona).
The ancient city
Ancient Rone. It seems that tourists cannot leave Rome without giving a look at the Colosseum: however, I do not suggest to waste time visiting its interior. Instead, it is much more fascinating to visit the Roman Forum, walking through the ruins but also trhough the history. If you don't have time for the tour don't miss the wonderful view you can have from the small street (Via di S. Pietro in Carcere) that climbs to the Campidoglio along the back of the Monument to Vittorio Emanuele (actually, sometimes it is possible to reach the upper terrace of the Vittorio Emanuele Monument, a great view over the center). From the Campidoglio square one can go down to via del Teatro di Marcello and reach the Jewish quarter. Here, in Via del Portico di Ottavia, there are some famous Jewish restaurants: Gigetto is maybe the most famous, and it is definitively too expensive compared to the quality of the food, it's better to choose one of the others, and not to miss the "carciofi (artichokes) alla giudia" or the "pasta e ceci" (pasta with chickpeas). Finally, for a long walk in the real atmoshpere of the ancient Rome (preferably during spingtime) I suggest Via Appia Antica, that you can reach from Piazzale delle Terme di Caracalla through Via di Porta S. Sebastiano. All the practical informations can be found at the website of the
Appia Antica Regional Park
.
Rome with kids
After Carlo joined our family in 2011, I realized that it is rather crucial when traveling with kids to find at least a couple of activities that can be interesting for them as well. The following suggestions are then based on my personal experience, and of course they must be adapted to the age of the kids.

A first interesting tour is the one around Villa Borghese. The most famous attraction for kids here is the zoo. Here we have a great exhibition of animals from all around the world, including reptiles. It is rather big, so it is better to plan a visit from early in the morning. There are places inside when one can buy food, but it's not a bad idea to have a sandwich ready in the bag, since maybe the kids get hungry when they are in front of the Drago di Comodo and there is no bar around.... Nearby the zoo there is the Natural History Museum. Unfortunately the website is only in italian, but what is important to know is that it is closed on Monday, and children below 6 years old have free admission. An other nice option to visit Villa Borghese is to rent a family bike. These are nice electrically assisted riscio' that you can rent in several places in the Villa. One hour is usually enough to visit the Villa and to amuse kids of any age between 2 and 99!
A second Villa that is worth visiting is Villa Torlonia, with its English styled gardens. Here there are a couple of small and lovely museum, i.e. the Casina delle Civette and Casino Nobile. Inside the Villa there is Technotown, a kind of science museum with activities for kids of different ages. The activities run according to a daily schedule, so check it in advance. Just besides Technotown there is a nice cafeteria named La Limonaia. During spring and summer you can also sit outside, and enjoy both a fresh drink or a light lunch.
An other nice place to visit with kids aged 3-10 is Explora. It is better to book the entrance in advance since admission is regulated in four slots per day. There is a restaurant inside the museum that is not bad at all. Nearby Explora there are several nice places. There is an open-air playground that you can reach from Explora by taking the tram. On walking distance from there you will find the MAXXI museum, a very beautiful building with modern-art exhibitions that sometimes fit also kids' taste, and a cafeteria. Right in front of the MAXXI you will find an excellent "gelateria" (ice-cream shop), named Neve di Latte, via Luigi Poletti, 6. On the other side with respect to the playground there is the Auditorium of Rome. This is also a nice building and on the roof you will find an other open-air playground for kids. Sometimes there are also free events for kids, for example during spring there is usually the Science week with several open labs and other interesting activities.

On a completely different part of the city there is the Eur lake. You can reach it by metro B, stop Eur Fermi. Recently the fountains have been opened again and it is a nice place for a walk and picnic. Also here there is one of the most famous gelaterie in Rome, Giolitti, viale Oceania 90, and there are open-air playgrounds for kids. Not far from here there is the Luneurpark, a big playground for kids, appropriate for children aged 5-10. It is more convenient to buy an entrance ticket including already credit for the attractions inside the park. You can buy food inside but it is extremely expensive as compared to the quality, so it is better to be prepared in advance. One if free to go out during the admission day, but the only restaurant you find right there is a Mac Donald's. If you have a car, a good option is to reach instead a good restaurant not far from the Lake, named Lo Convento, via Ostiense, 491.